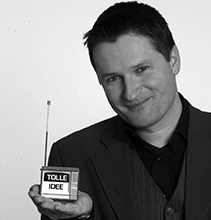 Alexander Schwarz was born in 1961 in Munich, Germany.
He studied German literature, film studies, Russian and history in Munich, in St. Andrews, Scotland, and at the State Film School VGIK in Moscow, Russia. 1993 he graduated as Dr. phil. (Ph.D.) from Munich University, with a dissertation on German and Russian screenplays of the silent film era.
During his studies he wrote film reviews and film historic features for ORF (Austria) and Bayerischer Rundfunk (Germany), worked as a researcher, author and assistent for a dozen documentary films for Bayerisches Fernsehen (Bavarian public broadcaster), and joined their editorial group "Film and Teleklub" as intern and freelancer.
1994 to mid-1996 he was executive producer at the nationwide commercial broadcaster Kabel 1 TV in Unterfoehring near Munich, Germany.
From June 1996 he helped to launch the factual entertainment channel Discovery Channel in Germany. He headed the On Air Promotion (produced by SEED Medien, Munich), and the marketing, press and internet departments for the German speaking region. In 2001 he was promoted to Dep. GM for the German branch of Discovery.
From April 2003 to October 2004 he was Director of Marketing, Communication and Creative Services at Discovery Networks Europe, for the EMEA region (Europe, Middle East and Africa).
By the end of 2004 he launched his freelance career and founded the Tolle Idee! network with his colleagues, to delve deaper into development of crossmedia experiences. At the same time he continues to work as curator of film programs and art exhibitions, often with Russian and Ukrainian topics, like the "Red Dream Factory" retrospective (2012) or the one on Michail Kalatosow (2013). He also works as translator and director of voice over versions for documentary films and has given workshops for film translators.
Publications:
The Screenplay (ed.) Munich 1992
The Written Film. Screenplays of the German and Russian Silent Film Era (= doctoral dissertation), Munich 1994
Eisenstein and the World (ed.), Munich 1998
Various reviews and articles on documentary films and film theory, e.g. for Historical Journal of Film, Radio and Television (1992, 1993), Metzler Film Dictionary (1995), Rowohlt Film Dictionary (1997), Metzler Dictionary of Media Theory (2003) and the quarterly magazine Der Schnitt