Filmfestival in Abu Dhabi | Vortrag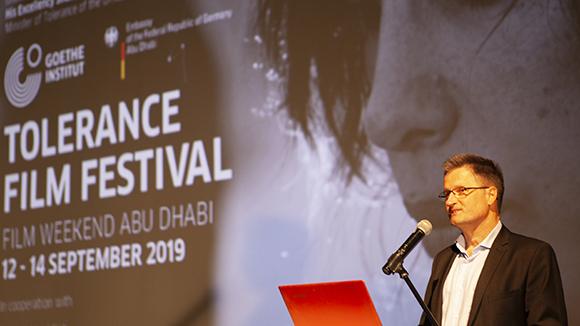 The Goethe-Institut invited in 2019 to TOLERANCE - FILM FESTIVAL in Abu Dhabi and Dubai: Under the Patronage of H.E. Sheikh Nahyan bin Mubarak Al Nahyan, Minister of Tolerance of the United Arab Emirates, in celebration of the "Year of Tolerance 2019", the German Embassy in cooperation with the Goethe-Institut show a series of documentaries, feature films and comedies revolving around different aspects of tolerance.
There was shown among others D. W. Griffith' movie "Intolerance", USA 1916, with an introduction by film historian and curator Dr Alexander Schwarz, Munich, and a discussion with Q&A with Fareed Majari, Goethe-Institut:
 
What a spectacle! Neither Hollywood nor the whole world had ever seen a film on such a grand scale. David Wark Griffith's intention was to create the biggest movie ever made to date. As independent producer and director he spent his own fortune for it, had built hectares of buildings and props and directed literally tens of thousands of extras on the set. It was a project dear to his heart and convictions, a social and historical vision. He intended to let mankind look into the mirror. He wanted indeed to convince and move America and all mankind, to implement more peace, humanity and empathy, to switch to human dignity, tolerance, justice and progress, to refrain from violence, hatred, oppression, death sentence, imperialism, persecution, warfare – and to value love and understanding.