European Crossmedia Project on Forced Migration - Concept, Coorganisation, Translations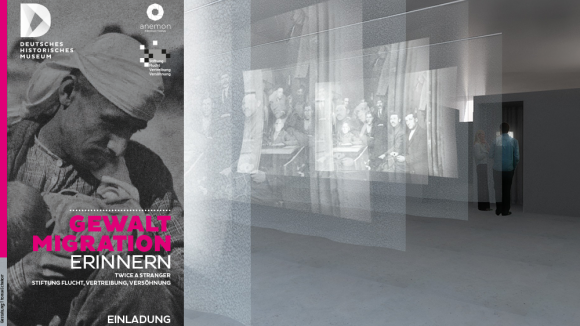 Crossmedia project: exhibition from Nov 6, 2014 through January 18, 2015 at Deutsches Historisches Museum, Berlin
Anemon Productions, with Stiftung Flucht, Vertreibung, Versöhnung and Deutsches Historisches Museum, Berlin
'Twice a Stranger' is a cross media project about the greatest forced migrations of the 20th century, when millions of people were uprooted and moved to new homelands.
Based on oral video testimonies, rare film archives and photos this project brings visitors face-to-face with the survivors of these traumatic events. From the Greek-Turkish exchange in 1922-24, 'Twice a Stranger' travels to the German-Polish forced migration at the end of WW II,  to the partition of India, and to the Cyprus crisis' in the 1960's and 70's.
The project by Anemon Productions, Athens, consists of a multilingual website (German, English, Greek, Turkish) and a multimedia exhibition hosted at the the Istanbul Bilgi University (2012), the Leventis Municipal Museum in Nicosia (2012), the Benaki Museum in Athens (2012), the Armymuseum in Stockholm and the German Historical Museum in Berlin (2014/15). The project is accompanied by a 12-part documentary series, educational programmes, storytelling sessions, documentary screenings, a children's book, culinary nights, music events, community and outreach events.
We have consulted the concept for the multimedia exhibition and the website, helped to bring it to Berlin and provided the translations of the exhibition/web videos and the website into German.
for the website see http://www.twiceastranger.net/
"Twice a Stranger" is funded with the support of the European Commission (Culture Programme). It is created by Anemon, co-organised by the University of Oxford (Refugee Studies Centre), the Benaki Museum, the Leventis Municipal Museum, the Istanbul Bilgi University and Tolle Idee!, in partnership with Stiftung Flucht, Vertreibung, Versöhnung, Berlin, Deutsches Historisches Museum, Berlin, ERT, the A.G.Leventis Foundation, the Goethe-Institut, the British Council, the Megaron Athens Concert Hall, the Greek Council for Refugees and the Centre for Asia Minor Studies.
for the organiser see http://www.anemon.gr/