Film program, Photo Exhibition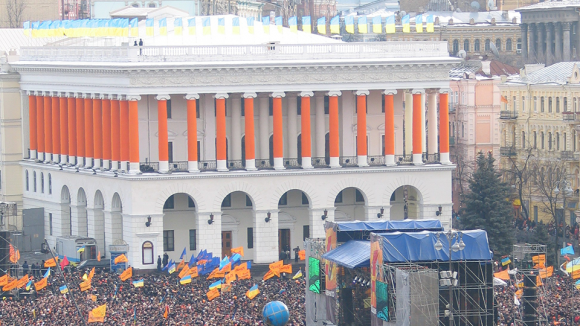 "Fourteen years of so called independence but only now we are free!" - this was a slogan often heard among the masses on the Majdan Nezalezhnosti, the Independence Square in the Ukrainian capital of Kiev. The people had fought successfully for their right for free and untampered elections of their new president. And thus they had started radically changing their country and society. It had been a "revolution" largely of the media and the internet.
Alexander Schwarz proposed a "spontaneous retrospective" of documentaries on this unique "Orange Revolution" as a special program to the Munich DOK.FEST, the international documentary film festival, on the occasion of its 20th edition, in May 2005. With financial support from the cultural department of the Munich City Council (celebrating the twin citizenship of Munich and Kiev), the Bavarian State and the Bavarian "Ostgesellschaft" he was able to invite four films with their directors Oksana Plysjuk, Konstantyn Stognii, Volodymyr Arjev and Natalka Ficitsch for their German premiere to Munich.
The special program "Ukraine on the Move" at the Munich Film Museum and the photo and video exhibition with works by the young Kiev photographers Petro Vlasenko and Anatolij Stepanow in the Kunstarkaden Gallery in Munich had been developed with the help of Dmitri Popow (journalist, Munich) and Aleksandr Vinogradow (journalist, Kiev) and curated by Alexander Schwarz.