Films, Retrospective, Events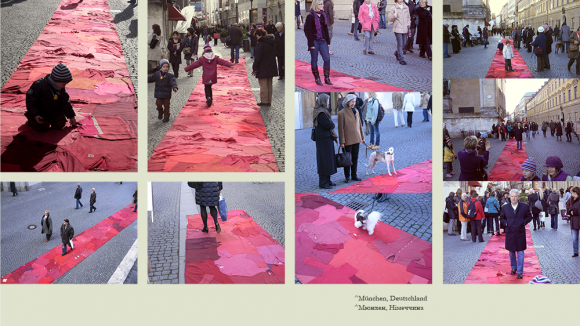 To revive the relationship between the twin cities Munich and Kiev and to present the young Ukrainian artists' generation, Alexander Schwarz  curated and organised Alexander Schwarz a six months series of events for the Cultural department of the municipality of Munich, together with other partners:
Kiew - Stadt ohne Menschen, Menschen ohne Stadt? Städtebau im ukrainischen Wunderland
Lecture by Pavel Velitchko - architect, critic and artist from Kiev (May 21, 2010, Gasteig, Vortragssaal der Bibliothek, Munich)
The Cultural department of the municipality of Munich is funding a series of events called URBAN VISIONS about the metropolitan cities of the world, this time dedicated to Munich's twin city Kiev. Kiev is almost four times larger than Munich - and in the focus of many major problems on global, national, regional and local levels. Sponsored by Kulturreferats der LH München, in cooperation with Kunstraum München e.V. and Bayerische Ostgesellschaft e.V.
Testimony of Objects
installations, drawings and prints by Lada Nakonechna (Kiev) November 2009 in galerieGEDOKmuc
Red Carpet Theatinerstraße
art event by Lada Nakonechna in November 2009 at Odeonsplatz, Munich, in cooperation with galerieGEDOKmuc
Post-Soviet und Post-Orange: Young Ukrainian Art
lecture by Lada Nakonechna, with Videos, November 2009 at Städtische Kunsthalle Lothringer13
Spectator in the Woods. Art and Manipulation
installations, objects und video by Lada Nakonechna und Sergii Sabakar, Kiev, November/December 2009 at Galerie Weltraum

The artists Lada Nakonechna and Sergii Sabakar had been suggested as artists in residence 2009 by Villa Waldberta, Feldafing, by Alexander Schwarz.
Panorama of Ukrainian Film
retrospective of classial films, new films and short films from the Ukraine, September 2009, at Filmmuseum Munich, in cooperation with Ukrainian Cinema Foundation UCF (Dir. Andrij Chalpachtschi); 14 films by Kira Muratova, Roman Balayan, Oles Sanin, Eva Nejman and others, presented by filmmaker Roman Balayan und Mykyta Ratnikov, actressLarysa Kadochnikova and film critic Sergej Trymbach